Fireplaces
Whether you're looking for an electric fireplace, gas fireplace or the more traditional wood-burning fireplace, you'll find the right look and design for your home at Mead Companies.
We proudly carry fireplace options from Heatilator, the preferred brand of builders and remodelers, in a number of styles and with a variety of features. Whether you're looking for an indoor fireplace to warm up your space or an outdoor fireplace to add style to your backyard oasis, you'll find the right fit at Knecht Home Center and Mead Lumber!
---
Product Links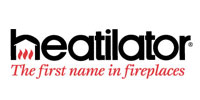 Mixing value with dependability, Heatilator has built a long standing reputation for providing quality, dependable hearth products at unbeatable values. Heatilator promises quality, reliability and an ease of installation unsurpassed in the industry in their products ranging from gas fireplaces to electric fireplaces.
Gas Fireplaces Wood Fireplaces Electric Fireplaces Outdoor Fireplaces
---
From spectacular outdoor lighting to lighting under your kitchen cabinets, Knecht Home Center and Mead Lumber offer thousands of lighting options to enhance your home. We offer the finishing touches you've been looking for in lighting, from traditional to contemporary.
Knecht Home Center and Mead Lumber are proud to carry windows and patio doors from the industry's top manufacturers, such as Anderson, Vector and Therma Tru. For the best in product and value, shop our showroom today!
Improve your outdoor living experience with our full line of patio furniture, decorative patio block, landscaping blick and timers, mulch, rock, fertilizer and more. We also provide a large selection of Weber grills and firepits to help you create an outdoor living area that will give you hours of comfort and enjoyment!