The Mead Legacy Storage Shed Collection offers many sizes and styles, and all may be customized just for you - including roof color, siding choices, windows, doors, ventilation, size, design and more. Plans, interactive materials lists, and rendering are all provided with each model and respective sizes having pricing for materials only at all our locations. Redi-built (materials and labor) pricing is available at several locations.
Ask for details.

In most of our markets we can deliver to you on your prepared site plan completely built or have your shed built right on site for those hard to get to places. Please visit or call your local Mead Lumber or Knecht Home Center for pricing on a shed just right for you!

*Check your state and local building jurisidictions and codes before final selection and building of your post frame building. Check with your local utility companies before digging.
---
Barn Shed
Sizes Available
8x6
8x8
8x10
8x12
8x14
8x16
Characteristics
6" - 3/8" thick rough sawn plywood soffited overhang
1x6 pine fascia
Architectural 30 yr shingles standard, felt paper
Galvanized metal roof edging
7/16" pre-primed 8" O.C. grooved sheet siding
2x4 wall and roof construction 2' O.C.
Treated 2x6 floor joist w/ ¾" floor sheathing
Full 6' wide swinging door opening
---
Gable Shed
Sizes Available
8x6
8x8
8x10
8x12
8x14
8x16
Characteristics
6" - 3/8" thick rough sawn plywood soffited overhang
1x6 pine fascia
Architectural 30 yr shingles standard, felt paper
Galvanized metal roof edging
7/16" pre primed 8" O.C. grooved sheet siding
2x4 wall and roof construction 2' O.C.
Treated 2x6 floor joist w/ ¾" floor Sheathing
6'3" wall height
Full 6' wide swinging door opening
---
Gable Shed with Porch
Sizes Available
Characteristics
6" - 3/8" thick rough sawn plywood soffited overhang
1x6 pine fascia
Architectural 30 shingles standard, felt paper
Galvanized metal roof edging
7/16" pre primed 8" O.C. grooved sheet siding
2x4 wall and roof construction 2' O.C.
Treated 2x6 floor joist w/ ¾ floor sheathing
6'3" wall height
Full 6' wide swinging door opening
4' covered deck (5/4 treated cedar-tone decking)
---
Potting Shed
Characteristics
6" - 3/8" thick rough sawn plywood soffited overhang
1x6 pine fascia
Architectural 30 yr shingles standard, felt paper
Galvanized metal roof edging
7/16" pre primed 8" O.C. grooved sheet siding
2x4 wall and roof construction 2' O.C.
Treated 2x6 floor joist w/ ¾ "floor Sheathing
6'3" wall height
Full 3' wide swinging Dutch door
4' covered deck (5/4 treated cedar-tone decking)
(2) windows 9x12 Barn Sash (20x25)
---
Salt Box Shed
Characteristics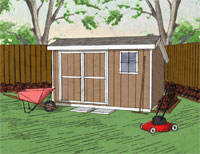 6" - 3/8" thick rough sawn plywood soffited overhang
1x6 pine fascia
Architectural 30 yr shingles standard, felt paper
Galvanized metal roof edging
7/16" pre primed 8" O.C. grooved sheet siding
2x4 wall and roof construction 2' O.C.
Treated 2x6 floor joist w/ ¾" floor Sheathing
6'3" wall height
Full 6' wide swinging door
---
The Cottage
Characteristics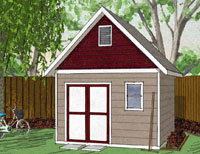 6" - 3/8" thick rough sawn plywood soffited overhang
1x6 pine fascia
12/12 roof pitch (plenty of attic for storage)
Architectural 30 yr shingles standard, felt paper
Galvanized metal roof edging
8" lapped pre primed lap siding
Shake gable accent siding
Louvered gable accent vent
2x4 wall, 2x6 roof construction 2' O.C.
Treated 2x6 floor joist w/ ¾" floor Sheathing
Full 8' wall height
Full 6' wide swinging door
(1) 3x3 vinyl sliding window