Key Specs

---


Pricing

---

Sq Ft: 2,041
Beds: 3
Baths: 2.5
Floors: 2
Garage: 2 Car

Home Materials: $136,554
Finished Lower Level Option: $9,449
Finished Garage Option: $978
Rear Deck Option: $2,213

Plan Description
---
Welcome to The Mead Legacy Bradley House Plan, where comfort and convenience meet.
As you step inside, you will immediately feel at home in the spacious open floor plan. The sleek cabinetry of the kitchen is a gourmet chef's dream come true, while the cozy den is the perfect spot to unwind with a good book or catch up on your favorite TV show after a long day.

Upstairs, three bedrooms are thoughtfully placed on the same level to ensure maximum privacy and convenience. The primary suite is a peaceful retreat complete with a private en-suite bath, providing a luxurious and comfortable space to relax and unwind. The two additional bedrooms are carefully designed with an additional full bath and a convenient laundry room, making daily living more convenient and functional.

The two-car garage offers both efficiency and affordability, while the optional rear deck and the possibility of finishing the lower level provide even more room for expansion either now or in the future.

Whether you are a growing family or empty nesters, the Bradley House Plan is the perfect blend of style and functionality, offering the ideal place to call home.
Bradley 3D Floor Plans

---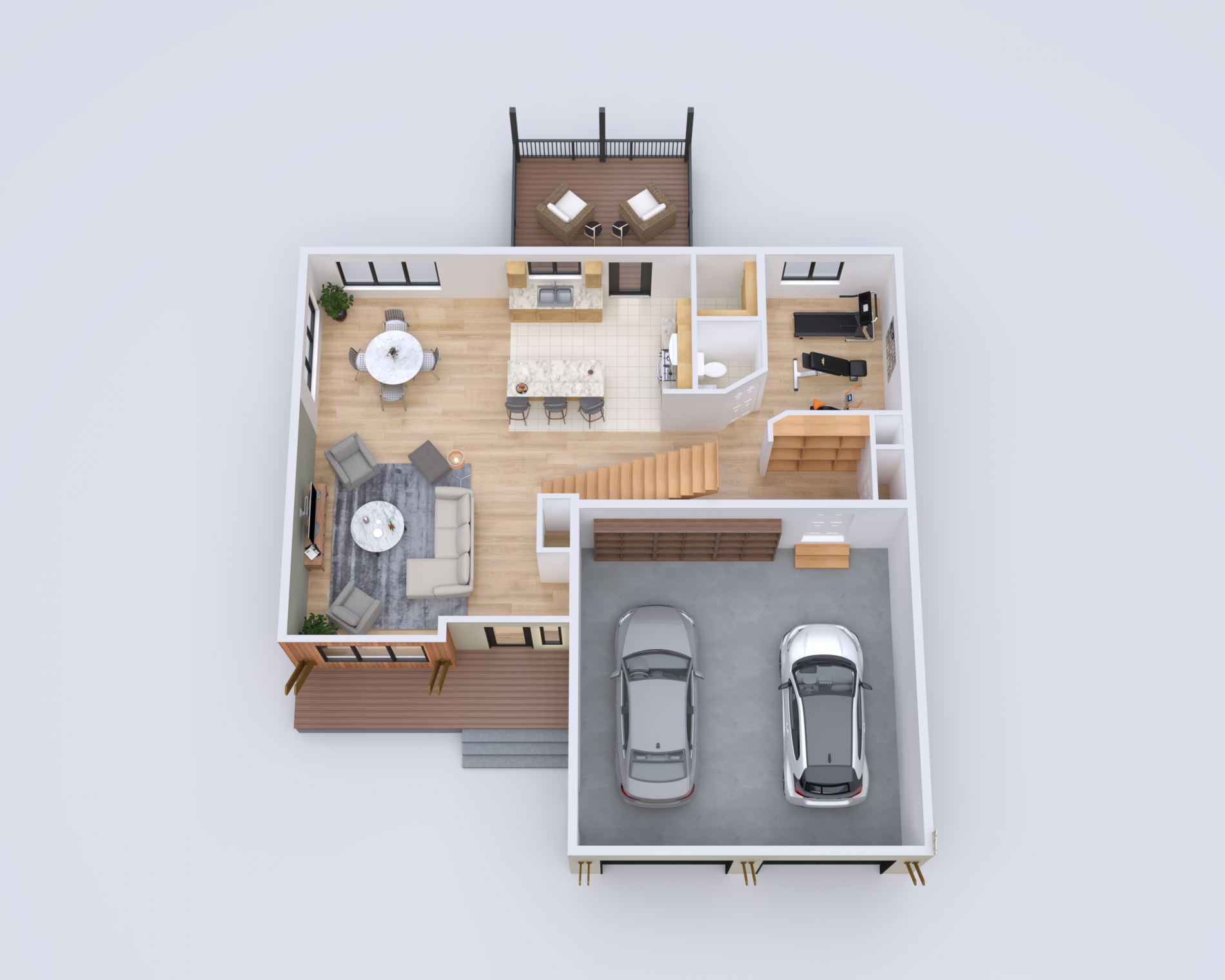 Bradley Front Exterior

---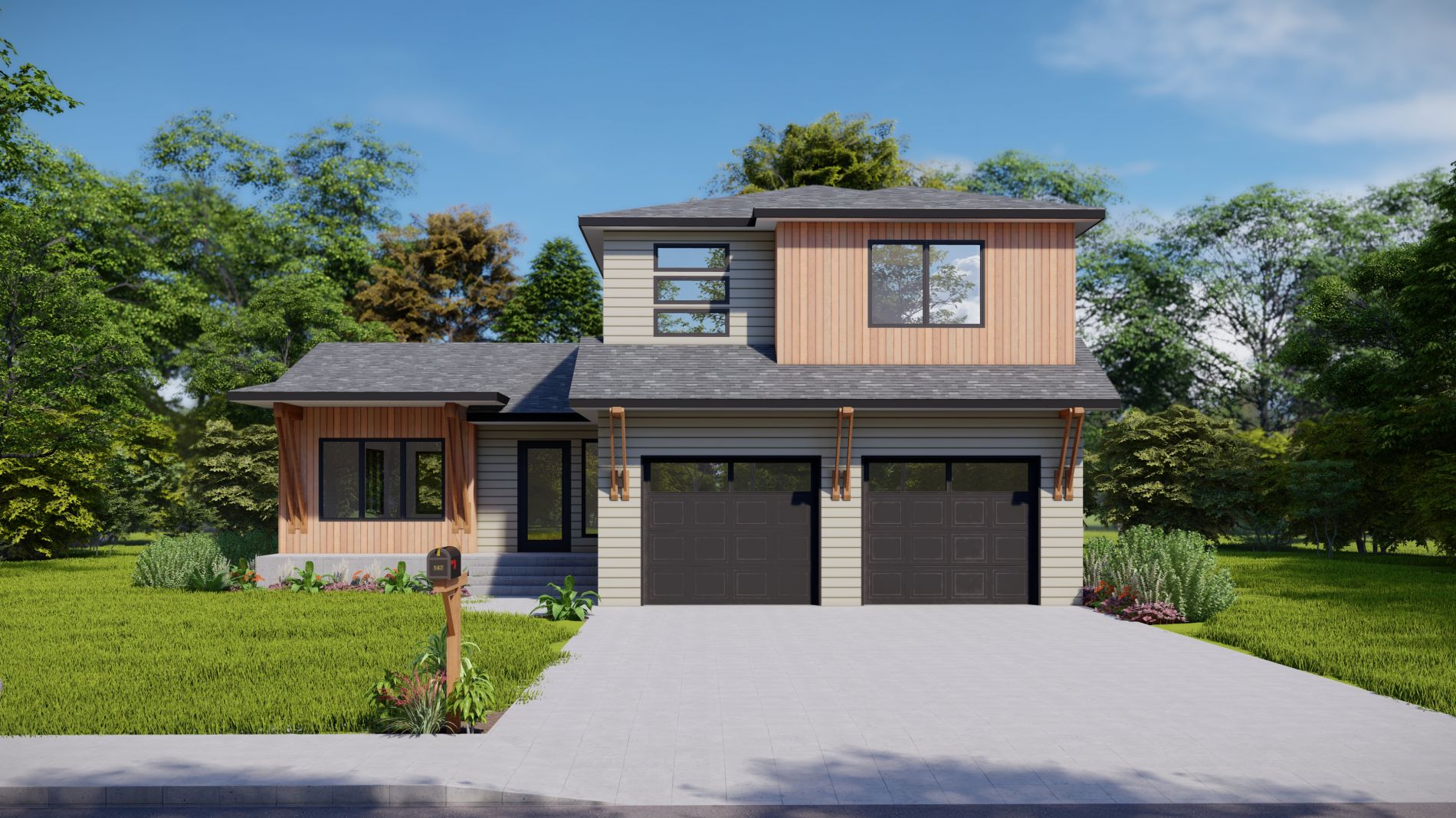 Bradley Kitchen Interior

---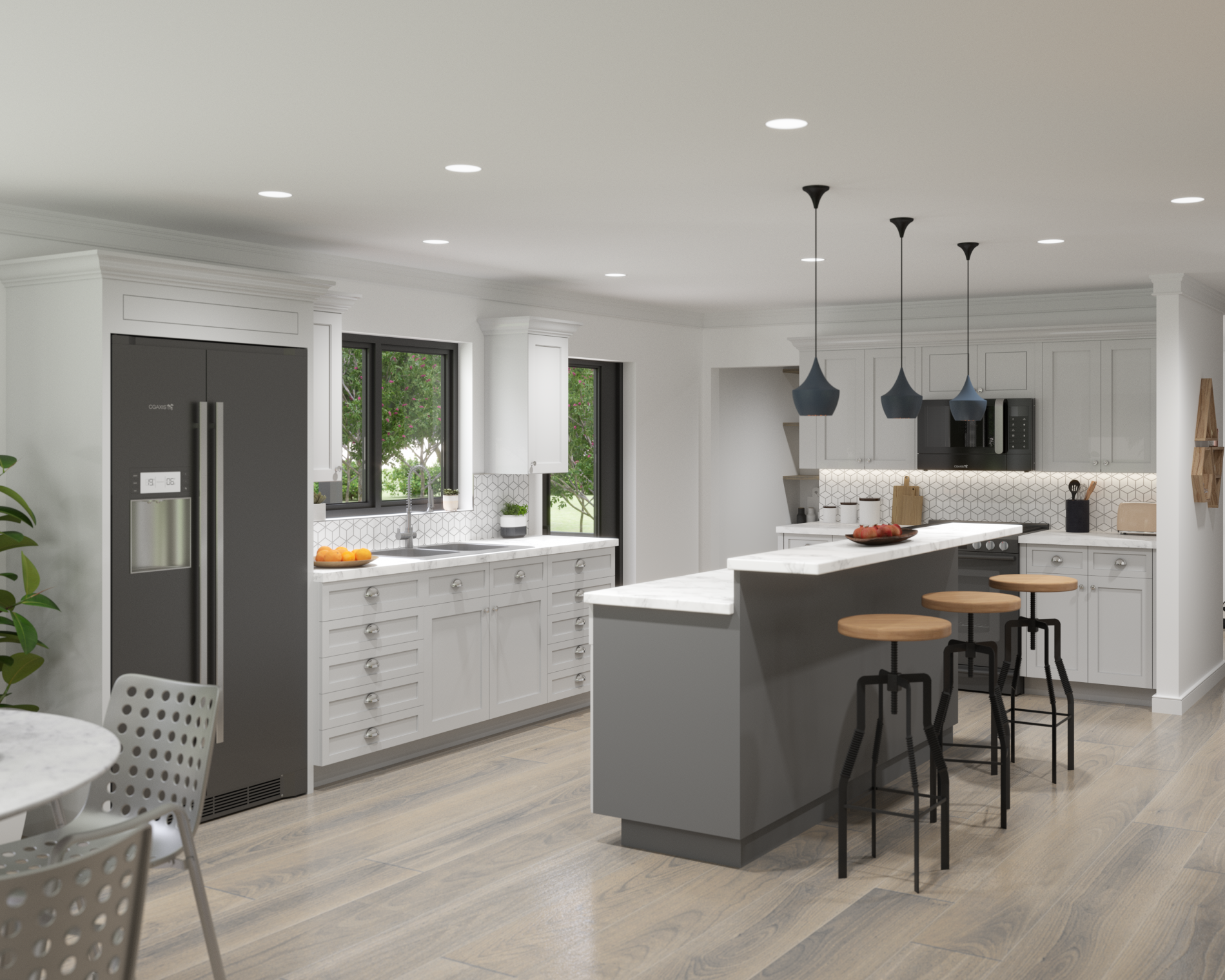 Bradley Rear Exterior
---
Plan & Pricing Notes

---
Pricing above does not include any applicable state or local taxes, delivery charges, etc. Note-building materials represent only part of your total project's cost. Other costs will include lot, site work, labor, mechanical, plumbing, heating, electrical, concrete, foundation, flooring and more. See your Contractor for more details.
The following goods and services are typically included in our baseline home materials offering; framing lumber and plywood, trusses and engineered wood, roofing, energy-efficient windows and exterior doors, garage doors and openers, siding, soffit and fascia, insulation, drywall, interior millwork, stair systems, cabinetry and countertops, hardware, and more. Other product offerings and home electives that we are prepared to help you with include decking, finished lower level, finished garage, cultured stone, gutter, fireplaces, flooring, foundation materials, lighting, paint and more.
Architectural images and marketing floor plans may contain graphics and features for illustration purposes that may not be included in our baseline offerings. This could include siding type, brick, stone, decking, fireplaces, decorative corbels, interior beams, specific exterior door, windows and/or garage door series, etc. See customer sales representative for further details and assistance including a more in-depth review of the plans, design revisions wanted (if any), selection of the materials just right for you, pricing of the materials, finance terms, and helping to find a contractor to bring your project home.
There is a charge of $500 for our Mead Legacy plans under 1750 square feet, and $750 over 1750 square feet, with the general provision that the builder may use such plan (along with the ability to make changes as needed) as many times as they wish. The purchaser of such plans and/or builder may not sell or give these plans to any other party at any time as we hold the copyright. The design fee includes up to two hours of plan revisions, after that a design hourly fee of $75 per hour will be added. In addition to the front end great value of the plan(s), we will provide a rebate that essentially provides a 1% material discount on materials purchased from us on your home project toward the plan cost, up to 50% of the cost of such plan. It is the purchaser's responsibility to request this credit within 60 days of closing the project, and only if accounts receivable terms have been met per our regular terms and conditions.
Mead Plans pending copyright. The copyright laws prevent anyone, other than the copyright owner, from reproducing, modifying, or reusing the house plan or home design without permission of the copyright owner-Mead/Knecht. While we will do our best to meet your plan needs, Mead Lumber and Knecht Home Center assume no liability or responsibility for the accuracy and/or final building of plans. The state of South Dakota does not require residential home plans to be designed by a licensed architect and therefore these plans have not been reviewed by an architect or engineer. It is the responsibility of the purchaser of these plans and/or general contractor to ensure that the structure is built in accordance with the various government agencies including local jurisdiction. Despite our best intentions, we are not responsible for typographical or technical errors, omissions or oversights that we may have made.